Welcome to My Model Railroad, a web site dedicated to the interests of model railroad enthusiasts. While you are here, please take a peek at our discussion area as well as our book review section. These areas are 100% driven by users of this web site.
Our model railroad discussion area is a great place to communicate with others about this wonderful hobby. Share your insights and opinions about products you've used or ideas that you have tried. Questions are welcome and answers are appreciated.
Anyone interested in Civil War era railroads should find plenty of idea provoking visuals amongst the photographs that we have amassed. Be sure to check out the railroad gun and crew that is at the bottom of page 2 of the Civil War Photographs section.
With so many different sources of ideas and information on the shelves of your local hobby store, our book review section is designed to allow users to benefit from other users experiences with books and other media. This section is new and any input is especially appreciated.
Our efforts have recently been recognized. We would like to thank Hermann Weigl from Germany for this recognition.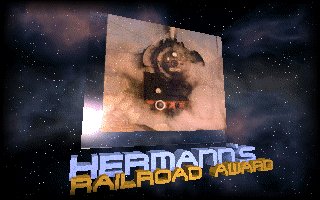 And Dave:
As with any project of this type, user involvement is critical to its' success. Of course we welcome your ideas and suggestions which can be sent to the e-mail address below. But most of all, we value your participation.
Thanks for stopping by!